We invite you
to be part of
our team.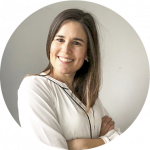 "Being part of Alster has allowed me to continue developing professionally, with the freedom to manage my time, providing services in a much more efficient way through the communication platforms that are implemented at Alster. Also, working at Alster allows me to balance independence with being part of a team of excellent professionals, while creating very important support and collaboration networks that allow us to provide an excellent quality service."
"Working at Alster has a number of advantages over any traditional legal services company. Alster's technological tools allow me to be in contact with clients and other team members in real time and without having to leave home, making my working hours more efficient and productive. This allows me to better organize my time to meet customer requirements and to spend quality time with my family."
What talents are we looking for
Of our attorneys have more than 10 years of professional experience.
(No excluyente)
Of our attorneys value Alster's flexible model.
Of our attorney affirms that Alster is a key partner for independent attorneys.
We use our own technological platform to work
more efficiently and flexibly with our clients.
Be part of the new legal dimension